Shopify has revealed updates and new features to its e-commerce technology at the company's annual conference Shopify Unite, held in Toronto this week.
One of the major announcements that came out of this year's conference is a fulfillment network that will enable merchants to distribute their products through distribution centres across the US.
Shopify's new fulfillment network is a direct competitor to Amazon's fulfillment service.
"Shopify's real power comes from the variety and strength of our ecosystem," said Shopify CEO Tobi Lutke. "Unite gives our developer and partner community access to our product roadmap. Together, and only together, we can shape the future of commerce and empower entrepreneurs around the world."
The Shopify Fulfillment Network will provide US-based merchants with a network of various fulfillment centres. The network's smart inventory-allocation technology will use machine learning to guarantee timely deliveries and reduced shipping costs. It is currently available for early access. The new network could rival Amazon's fulfillment service, which allows merchants to store products in Amazon's fulfillment centres, where Amazon picks, packs, ships, and provides customer service for these products.
The next addition to Shopify's suite of services is an improved Shopify Plus platform for enterprise merchants. The platform has been designed to provide sellers with greater power and wider visibility across multiple stores, all through a single view. The updated Shopify Plus gives decision makers key information across all of their stores, providing greater control of users and permissions, store additions, settings, and cross-shop navigation. With this consolidated view, Shopify said Plus merchants can take better control of their operations.
RELATED: Shopify acquires Handshake, marking its third acquisition in six months
​Shopify Flow​, the commerce automation tool that is only available to Plus merchants, will be consolidated into the new Plus platform. The tool automates repetitive tasks, letting enterprise merchants save time, enabling them to test new ideas with ease while delivering consistent customer experience across every store.
Shopify POS now powers over 100,000 merchants. New contactless phone case introduced. Already used by several merchants, inc All Birds #ShopifyUnite pic.twitter.com/ZfgTgDY2Ma

— Paul Rogers (@paulnrogers) June 19, 2019
The Ottawa-based company is also renovating its point-of-sale (POS) software, aiming to make it faster, more intuitive, and more scalable. The new software will provide retailers with a simpler interface, new customer service shortcuts, and access to all of Shopify's app extensions. This new product could be Shopify's answer to the recent success of Montreal-based POS software provider Lightspeed. This year, Lightspeed went public at a $1.4 billion valuation.
Shopify is also investing in cross-border selling capabilities through 11 new language capabilities, Translations API, and newly-available currencies. The new languages include Traditional Chinese, Simplified Chinese, Danish, Dutch, Finnish, Hindi, Malay, Norwegian, Swedish, Korean, and Thai. Through the updated currency, all merchants can now sell in ​multiple currencies​ and get paid in their local currency. The Translations API will accumulate translated buyer-facing content, including products, collections, and blog posts, facilitating a consistent shopping experience in multiple languages.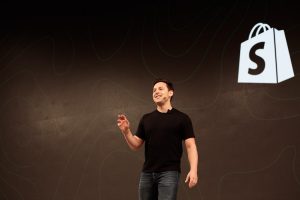 Some of the smaller online store design updates include the ability to display products in video and 3D. Not many e-commerce platforms have attempted to merge this sort of feature, and it could have larger implications for e-commerce platform marketing, a notoriously problematic area for most platforms. Partners can also now integrate subscription payments solutions directly into Shopify's checkout.
The company's final updated feature is Shopify App Bridge​, a consolidated tool that allows developers to insert their apps directly into Shopify, on desktop, Shopify Mobile, and Shopify POS. The company's most popular libraries (suites of data and programming code) will be available in GraphQL. Its command-line interface, Shopify App CLI also enables developers to scaffold apps within seconds by allowing them to build steps into one command.
Image courtesy Shopify